** Students may not be checked out within 30 minutes of  dismissal **
Click to read the latest issue of the MMS newsletter…
Virtual Tour for New Bulldogs!
Office Hours:
 7:00 – 2:50
Breakfast begins 7:10 AM
School Day Begins 7:30 AM

School Day Ends 1:50
 PM
Early Release Wed 12:00 PM
Please visit St. Johns Care Connect if your child needs clothing, food or school supplies, or medical attention.
Click above to order your yearbook online
Student Early Pickup info for 2020/21
Parents who will be picking up a child for early dismissal due to illness or a medical appointment will be expected to call the front office when they arrive at the school and remain in their vehicle in front of the main office. A staff member will bring the child to the vehicle, check identification, and assist in signing out the student.  There is no dismissal within 45 minutes of the regular end of the school day, and only parents, guardians, or other individuals identified on the student's contact list, with appropriate identification, will be allowed to leave with the student.
Interested in using the MMS facility for your event or function? Please complete this form and contact our maintenance coordinator Mr. Pelletier.
The St. Johns County School District permits the use of a service animal by an individual with a disability…. click here for more information about our service animal policy.
If you are a person with a disability who needs assistance and planning to attend a school meeting or program, please contact Murray Middle School with your specific need at 904-547-8470.
Checking Academic Progress
The Home Access Center (HAC) is a web-based application to monitor student's academic progress.. The HAC portal is available to registered parents and/or guardians. Log in here or via the icon.

Now you can follow RJ Murray Middle School on both Twitter and Instagram…. @rjmmsbulldogs
MMS Parent Teacher Organization
Come, join the MMS PTO and make a difference for our students! PTO sponsors field trips, movie nights, dances, festivals, spirit nights at local restaurants, purchases equipment and more
Visit this page to learn about all the ways you can connect to Murray Middle School… Schoology, Remind, HAC, Clever, and your textbooks… It's all here so Get Connected!
2020-2021 Instructional Materials Adoption for English Language Arts (ELA)
St. Johns County School District curriculum department representatives and adoption committee members have completed the review process for the Instructional Materials Adoption for English Language Arts (ELA). On January 26, 2021, the School Board will conduct a public hearing to receive comment from the community regarding the final list of recommendations for instructional resources for this adoption. The public is invited to attend this hearing. Committees composed of teachers, district content experts, parents and community members compiled the lists. The hearing will be held at 9:00 a.m. in the auditorium of the District Administrative Building located at 40 Orange Street in St. Augustine.
View the final recommended selections and links to the selections. If you would like access to available printed materials or require assistance reviewing the online resources, please call the Instructional Resources and Media Services office at 904.547.3947. Materials are available for review from 8:30 a.m. - 4:30 p.m. when district offices are open.
Board action on the final recommendations for English Language Arts instructional materials is expected to take place at the School Board meeting in February.
ESE Parent Advisory Meetings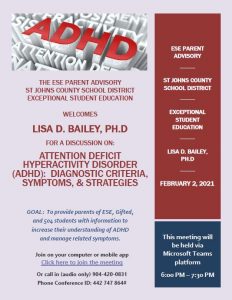 On February 2nd from 6:00pm to 7:30pm, the ESE Parent Advisory will welcome Lisa D. Bailey, Ph.D., for a virtual discussion titled "Attention Deficit Hyperactivity Disorder (ADHD): Diagnostic Criteria, Symptoms & Strategies." Join the meeting online via Microsoft Teams or join via phone by dialing 1-904-420-0831 and then entering the conference ID: 442 747 864#
This is just a reminder that anyone (parent, guardian, friend, neighbor, aunt, uncle) must have school access to attend an event at Fruit Cove Middle School, have lunch with a student and/or attend an awards assembly. If you have not already done so, please complete the School Access Form. The process for approval may take up to 4 weeks, so please fill out the application sooner than later for any guests that would like to have school access. Once the application is approved, school access will be valid for three years.
FortifyFL is a website and app developed at the direction of the Florida Legislature. Any student, educator, parent or member of the public can report school safety concerns directly to law enforcement and school administrators anonymously and easily through the FortifyFL app or getfortifyfl.com.
Thank You to Our Business Partners
Aaron's Furniture
Ancient City Runners Club
Antigua Veterinary Practice
Lynx Art Collection
The Kiwanis Club
Kimberley Low
Landon Homes
The Matanzas 5K
Santa Fe Electric – Gainesville
The St. Johns Housing Partnership, Inc.
The UPS Store
John Valdes
Doug Wiles/ Herbie Wiles Insurance