Murray Middle School's Washington DC Trip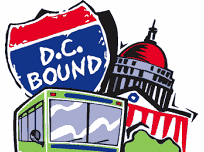 Who: All 8th graders without discipline infractions may attend
When: Jan 20-26, 2019 Students need to arrive at MMS at 6:15 PM on Sunday 1/20 – we plan to leave by 7 PM. Bring your warm clothes on the bus.
Click here for the mini itinerary…
Parent chaperones will be required to travel with students on the bus. No alternate travel plans will be allowed.
WHAT TO PACK??
long sleeve t-shirts

sweaters/sweatshirts (wear over LS shirts)
warm jacket/coat (the puffier the better – wear over sweater – makes a good travel pillow too)
gloves/mittens and a warm hat (every student will be given a warm scarf)
waterproof jacket (if possible – just in case and it breaks the wind)
long pants
leggings or long underwear (to wear under jeans/pants)
warm socks and sturdy shoes
phone and charger (take lots of pictures)
toiletries (so you look and smell good)
lip balm (you will regret it if you don't)
Please contact Mr. Moretta ([email protected]) if you have any questions.