Murray Middle School's Washington DC Trip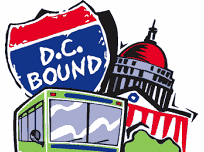 Who: All 8th graders without discipline infractions may attend
When:  January 14-19, 2018 – students leave Sunday evening and return early Friday morning – full agenda can be viewed online here
Join us on August 31st at 6PM for a presentation by Greenlight Tours
Cost:  $923 Students (4 to room) $1043 Parents (2 to room) * final cost may vary slightly due to number of travelers – based on past trips it will likely drop slightly

All payments made online  – see packet or link below for payment instructions

 

Payable in up to three payments…

  

(Please do not pay full amount – final amount will be less if trip grows)



$300 per person due by October 7th

$300 per person due by October 30th

Final balance due in November 30th

(final amount will be based on # of travelers)




Price is all inclusive: transport, lodging, meals!
Parent chaperones will be required to travel with students on the bus. No alternate travel plans will be allowed.
View online brochure with full info and complete registration and payment here…  All registration and payments will be completed online via this link – the group code is MMSDC2018
. Full directions for registering online this are available here. Please contact Mr. Moretta ([email protected]) if you have any questions.