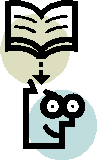 Copyright and Fair Use
Copyright & Fair Use information: Use these resources to make sure you are following the law.

Cyberbee.com: Each student has a question; click on the students to find the answers to your copyright questions
University of Maryland: Guide to copyright & fair use. Scroll down to see the categories that answer your questions.
Multimedia Copyright Guidelines for Students This is a webquest created by a teacher for middle school students. You do not need to follow the steps of the assignment. Scroll down to the copyright and fair use sections.
Safety Net. This site has a lot of information for teachers and students. It gives a good definition of plagiarism.